Reviews -
Doncaster 2000 - Doncaster Raceway
The year started off well with a superb weekend in Doncaster. The weather was absolutely beautiful and the JON 44W was due to make its first public appearance in England on the Fast Car stand. But this privilege was robbed due to a throttle cable snapping before I had even left my driveway. I managed to drive by pulling a wire in through the window but then electrical difficulties kicked in 12 miles outside Doncaster. All this and I still had to drive to Carisma in Essex to pick up my interior! I called it a day, got the car transported to safety and enjoyed the weekend with my mates.
This was were I first met Pippa, Steve and Matt from the Renault Sports Club. Its about time guys! I joined immediately and look forward to our first big trip to GTI International in Paris next year! See their website at www.renaultsportsclub.co.uk
I also had the pleasure of meeting Scary Steve and Timotei from Fast Car as well as Olivia from Max Power.
Max Power Interclub Shootout - York Raceway, May 2000
The idea sounded good....an inter-club shoot-out. Where you raced for you Club in your cars own group! Great, I thought, a chance to show people the ability of the new Renault Sports Club and whip the forever arguing 5 Turbo Owners Club.
Unfortunately this is not how it turned out. After playing follow the leader ( kindly done by Steve Rae and Alison ) for about 30 mins we eventually found York Dragway. I would rather we had not found it and gone cross country rallying around the Kielder Forest, as our cars wouldn`t have been as dirty and damaged. York really need to get their pothole problem sorted out as I wasn`t to sure whether to walk or swim through the mud baths.
Incredibly York also let the racing continue through the rain unlike Santa Pod who stop it immediately. I didn`t fancy the idea of aquaplaning the whole way up the strip so I just stood and watched in disbelief at the rear wheel and 4 wheel drive cars going sideways up the strip. This is lethal and its only a matter of time before there is a big accident there.
This was the first time I met Steve ( RAE 46M ), Danny ( B9 GTT), Ben ( KSE 7V) and Simon Spaull. Apart from sleeping in my car (to stop theiving scum at the hotel) the weekend was good fun.
Santa Pod Run Wot You Brung - June 2000
I had just purchased a lorry/transporter for carrying the Renault in case something went wrong at Santa Pod and also to keep the miles down on the new engine. The weekend started off well for a change! But I spoke to soon as we arrived in Scotland ready for the long journey down the M6.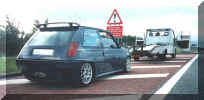 Firstly the hydraulic clutch in the lorry lost pressure which meant we could not change gears! Thanks to Jason McCormick we struggled on using a crowbar to force the clutch out when we needed a gear change! This was remarkably dangerous and I strongly would not recommend doing it. We only lasted another 80 or so miles before disaster struck. I was driving and could hear a ping ping ping noise.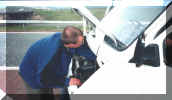 After stopping I seen that the gearbox housing had created a massive crack and was ready to drop out! The pinging noise was fragments of metal falling into the flywheel and bouncing around! Goodnight lorry. We took the R5 off and drove to the Pod hassle free. Apologies to John Murray from Dublin! Sorry mate, hope you enjoyed your weekend anyway.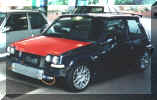 My times that day were a 13.75 and a 13.99 but Roland Gardiner managed to do a record 13.45 in the JON 44W.
Max Power Live, Birmingham NEC, July 2000
This event was good for the first day when we got to see all the cars. The problem was the other 3 days we had to waste! Once you leave your car in the NEC on the Thursday you can't take it out until the Sunday evening after the show is over! This left us with a whopping 3 days to kill.
This is where massive respect is due to Cadburys World! Wow, what can I say? Fill your face with as much hot, fresh chocolate as you can eat! The only catch is that your not allowed to lick your lips. Another crazy bit was the fantasy ride through the chocolate funderland. There was a Mr. Cadburys parrot who pops his head out a cook coo clock and lots of little M+M`s skiing down mountains and chocolate people living in chocolate buildings! There was also a bit with pictures of animals on the floor which had sensors in them. Every time we jumped on the animal the sensor picked us up and played little tunes and funny noises! Mad. Needless to say we spent about 30 mins bouncing up and down! It was also good to see the Coronation Street building which looks like its made out of chocolate, in fact, its just a hard plastic.
We spent a crazy 3 hours in there. It is mainly designed for kids, that's probably why we had so much fun there!
Ultimate Street Car, Santa Pod Raceway, August 2000
This was one of the best events I have attended in a long time. Despite the weather forecast being thunder with torrential rain. This was true on the Friday night as the heavens opened and most of us found refuge in our tents. I set my alarm for 07:30 in the morning to be up early to sign in for racing but can remember waking up at about 04:00 and switching off the alarm because the rain was so heavy! I eventually woke up and about 08:00 and the sun was out! In fact the sun was to stay for the rest of the weekend. We even got badly sun burnt.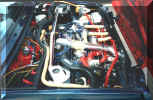 After signing on and taking the car for a 10 mile drive to mix in the Octane booster we were ready to run. The first few runs were to get the feel of how the car was running and setting up the ignition. After a couple of high 13`s Roland was getting more and more confident, unfortunately the queue in the fire up lane was getting longer and longer.
Impreza eater, proven
The 13.01 run was astonishing and was done during the windiest period of the whole day! This was quicker than the 22B ( special edition tuned ) Subaru Impreza by over half a second. This may not sound much but over a quarter mile its a lot. The Impreza is a 2.2 litre, 16 valve turbocharged, 4x4 and 350+ bhp weapon and we beat it in a front wheel drive, 1.4 litre, 8 valve turbocharged monster!

BB Tuning Cheerleaders
Once again our rivals know when they are beaten. This year BB Tunings alleged 370 bhp Renault 5 Turbo running 52 psi sat in their display tent and done nothing but try to look pretty. Why was this car not running up the strip? I'll tell you why, because they know they can not beat GT Tuning top cars.
Welcome to the 13 second club Steve
The longest serving GT Tuning customer Steve Rae was strangely the only top spec car not to be in the 13`s. This was until he wisely purchased the awesome F1 Turbo. This secret spec hybrid would probably propel Steve into the 13`s on his 18 inch Momo Sports!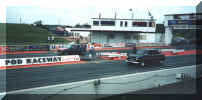 His previous best at the Pod was a 14.1 and on his first run, at USC, with the F1 he was easily in the 13`s. In fact, his best time on the day was a stunning 13.5 which I think is the quickest time a GTT customer has done in his own car.
Trax, Silverstone, September 2000
Apologies to Steve Rae, Simon Spaull and whoever else I told I would be at Silverstone. Unfortunately due to unforeseen circumstances I was unable to make the trip, but as this is the only show I didn't make this year I will definitely be there next year.
I believe a good time was had by all anyway and again the weather was excellent!
RDS Dublin - 2000
Although I did not go to this show last year i now wish I had. It was excellent. The whole show was geared towards motorsport including F1 and rallying. There were a few WRC`s there including Austin McHales Corolla and the Doherty brothers Impreza.
Mental stunt driver Rus Swift was there once again entertaining the crowd with his mad driving a car on 2 wheels stunt.
The winner of the SPL competition was Charlie Chalk in a JAZI accoustics prepared Audi from Ballymena with a monster 148 db. What impressed me the most was how Charlie managed to get up at 8am for judging after only staggering back to the hotel at 4am!
There were 27 people in total from Ballymena who traveled down and there were easily more cars from the North than from the South. It was good to see Mr. Neil "sausage fingers " Irwin and his mate Grocer in their mad "144 db all grunt and no go" Corsa. It was also good to see my good mate John Murray again and special thanks to him for helping us with the way home!
[ BACK ]