World Rally Masters, Punchestown, Naas, Dublin - 28th July 2001
Well what can I say? This has to be without doubt the best rally I have ever been to. No other rally will quite be the same again......ever. Well, unless you go to Monte Carlo, San Remo or Finland to watch the real wrc drivers at work. To stand back and watch they way Freddy Loix set up and pitched the car into the corner and then four wheel drifted the whole way around it was stunning, his confidence and natural driving ability was unbelievable. You would really have to have been there to believe what you were actually watching.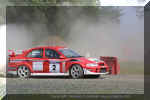 The packed grandstand went bananas every time Freddy came around to the finish line because they knew he would diff the life out of the evo and was he loving it or what! One time he stopped in front of the massive crowd and spun his finger around and around as if to say " you want to see more? " before pirouetting the lancer around in circles! I had the great pleasure of meeting this chap and he was very friendly and extremely relaxed. I even found out he has his own website and fan club at www.freddyloix.com. The WRC Evo took my breath away. There is no comparison to it and mine. The only similarity would be the shell! I`ll be saving extra hard now for £400,000 to buy one. I also met Richard Burns (although he was being mobbed at the time so I only got his autograph) Andrew Nesbitt and Patrick Snijers ( again! how's Pamela B mate??!! )

The huge crowd which descended on Punchestown Racecourse yesterday (Saturday) to see world rally stars Richard Burns, Freddy Loix and Miki Biasion take part in the first ever World Rally Masters were not to be disappointed as they were treated to a display of spectacular rallying.

Filling the top three places, Burns, Loix and Biasion showed just why they have made it to the pinnacle of rallying. Accompanied by a host of celebrity co-drivers including ex-World Snooker Champion Ken Doherty, Boxer Michael Carruth, International Sailor David Burrows and TV personality Emma Buckley, their participation in World Rally Masters was a major sporting success for Ireland. To the cheers and whistles of a very appreciative crowd who packed the grandstands, the Subaru, Mitsubishi and Fiat stars brought the event to a close with a dramatic display of crowd pleasing 'Doughnuts'.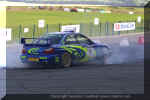 Spectators where also given their first opportunity to see the impressive set-ups of the Subaru World Rally Team and Marlboro Mitsubishi Ralliart who brought great colour to the courtyard of the County Kildare racecourse.

The competitive side of the event saw a trilling day long battle between current and former Irish Tarmac Rally Champions Andrew Nesbitt and Austin McHale with the pair tying for the top spot with equal times at the end of the six stage event.

The pair, Ireland's top rally drivers, started the event by setting equal times on the opening 4km stage. Driving his Cuisine de France Subaru Impreza WRC Nesbitt then edged ahead on stage 2 going one second faster than the Toyota Ireland Corolla WRC of McHale. The pair once again set equal times on stage three.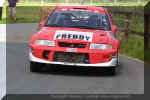 In the afternoon, with the stages run in the reverse direction, McHale posted a time three seconds faster than his Armagh rival to regain the lead. Dead level again on stage 5 McHale's Corolla held a two second advantage going into the final run.

Then, in a grandstand finish to World Rally Masters, Andrew Nesbitt set the fastest time of the day while McHale went a second slower than his previous run, leaving it all equal at the finish. After discussions with event director Ronan Morgan the pair agreed to call it a draw.

Behind the battling tarmac champions, Derek McGarrity took the final podium placing in his Subaru Impreza WRC while fourth went to Tipperary's Frank Meagher in a Ford Focus ahead of Daniel Doherty in a Subaru Impreza WRC. Former European and five times Belgian Rally Champion Patrick Snijers rounded off the top six in his Group N Prodrive Subaru.

The event saw Irish Minister for Sport, Tourism & Recreation Doctor James McDaid make his rallying debut as he became co-driver for fellow Donegal man James Cullen in the Wrangler Subaru Impreza WRC, the pair finishing 8th overall.

Double World Rally Champion Miki Biasion won the two wheel drive category driving the Super 1600 Fiat Punto while Ireland's Dermot Carnegie won the Rallycross section in his Ford Focus.

A historic day for Irish motorsport, the first ever World Rally Masters was a resounding success and the organisers are already promising to make the event an even greater spectacle in 2002.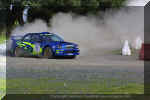 Results

1. Austin McHale/Brian Murphy - Toyota Corolla WRC - 16m 02s
= Andrew Nesbitt/James O'Brien - Subaru Impreza WRC - 16m 02s
3. Derek McGarrity/Adrian Foley - Subaru Impreza WRC - 16m 22s
4. Frank Meagher/Dermot O'Gorman - Ford Focus WRC - 16m 28s
5. Daniel Doherty/Michael Doherty - Subaru Impreza WRC - 16m 38s
6. Patrick Snijers/Willie McKee - Subaru Impreza (Grp N) - 16m 41s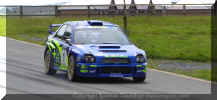 Richard Burns, Roy White, Niall Driver, Andrew Nesbitt, Daniel Doherty and Burns again at Punchestown.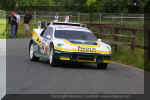 A special mention has to go to Pat Dornan for bringing along this amazing RS 200/500? But unfortunately he was to have a major accident and this is the last picture taken of his stunningly quick RS.
Lurgan Park Rally- July 2001
Well about time to! Rallying returns to Northern Ireland after an extraordinary epidemic of foot and mouth disease. What a shame about the weather. Oh well, when it rains it rains and we had absolutely stunning weather last year. Seat gave away big yellow sponge hands to everyone this year and I would like to thank Jason for being extremely inventative with his big yellow finger and using it to pick his nose etc etc.
Congratulations to Gwyndaf Evans who won the rally easily which was expected as he was in a works prepared and run car worth a lot more than the rest of the competitors.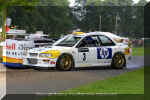 Special congratulations has to go to Derek McGarrity for remaining on four wheels this year. Derek is a super driver but just very unlucky at times.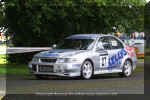 Brendan Kellys Mitsubishi Lancer Evo 6 with ex Bertie Fisher co-pilot Rory Kennedy reading the notes.

Gwyndaf Evans scored his fourth Lurgan Park victory in dominant style setting fastest time on all nine stages to cruise
home with 25.6 seconds advantage over Derek McGarrity in the SEAT Lurgan Park Rally & Challenge Time Trial on
Saturday.
Driving the factory SEAT Cordoba WRC Evo3 the Welshman won the Time Trial to complete a whitewash and boost
his winnings to £5000. His victory wasn't as easy as it may have appeared because heavy drizzle throughout the day
made the tree-lined stage extremely slippery. Afterwards he commented "it was one of those days when everything
goes like clockwork. Although it wasn't as easy as it may have appeared, the rain made
it slippy and difficult"
The Welshmans closest pursuer was Derek McGarrity(Glengormley), but the Subaru driver was always one or two sec-onds
shy throughout all of the nine stages. Pre-event favourite Kenny McKinstry lost time on the first stage when his
Impreza WRC skated across the grass, the Banbridge man coming back from 14th to snatch 3rd at the last gasp, but
at no time matching Gwyndaf's pace.
The battle for third place provided lots of dramas through the day. Gary White(Finaghy) occupied the spot early on but
slipped back, while Trevor Moore(Newtownabbey), Denis Biggerstaff (Dromara)and Maurice Gass (Armagh) all battled
for the bottom podium place. McKinstry however showed the sort of form that has made him a nine times Lurgan Park
winner to come through at the end.
Fermanagh's Raymond Johnston led GpN initially but made a wrong tyre choice to allow Neil Simpson in a similar
Lancer to get in front and extend his GpN lead towards the end of the day to finish 12th overall. Keith White (Crumlin)
was the best placed two wheel drive car after an impressive display, beating Eugene Donnelly into 2nd, Philip Shaw
3rd, all driving various Ford Escorts.
Max McKillen turned in some very good times in his Citroen Saxo, but there was no specific class to cater for 1600cc
cars, which meant the Dubliner had to be content with 4th in class behind the big engined Fords. Main retirement dur-ing
the day was Richard Hogg(Limavady) who crashed his Lancer into the trees, fortunately with little damage.
Tipperary's Roy White won the Spirit of the Rally award for his efforts in the Bobby King Porsche after his own Lancer
was wrecked in Ypres the previous weekend. Niall McShea non-started when his Toyota suffered gearbox troubles
before the start.
SEAT Lurgan Park Top Six - 1.Gwyndaf Evans/Gary Savage (SEAT Cordoba WRC) 14.42.8; 2.Derek McGarrity/Adrian
Foley (Subaru WRC) 15.08.4; 3.Kenny McKinstry/Mark McDonnell (Subaru WRC) 15.18.8; 4.Trevor Moore/Roy Wilson
(Escort Cosworth) 15.19.2; 5.Maurice Gass/Geoffrey Orr (Subaru WRC) 15.19.7; 6.Denis Biggerstaff/Robin
Max Power @ Portrush, N. Ireland - March 2001
Reviewed by Andrew Semple -
Well, ... what can I say? This has to go down as one of the greatest anti-climaxes of my whole entire life! Right... for a start lets get this clear... this is my first "event" I have ever been to, *note the "" marks round the event!* so if the things I mention are normal... then they shouldn't be like that! because its abnormal!
Anyway... I think I'll start off by complaining about the abundance of drunken louts that were intent on sitting on the bonnet of every car in the hope that it would perform a burnout... they had no sense of respect for anyone!
Number 2 - The carelessness of some people... fair enough... when you go to something like this you expect burnouts... but there were also the twats doing them that couldn't drive their fingers up their arses never mind drive a car! I myself never seen this but I heard about some guy happily spinning round in circles when he takes 2 little kiddies out... and half of some poor guys saxo!
Number 3 - The lack of Burnouts... o.k... so maybe a lack of them is a good thing if all drivers are like the one above... but there are people who can do it! And why is it always twin-cam drivers?? Anyway... the only thing that highlighted my night was performed by two blokes on mopeds doing their version of 'swan lake' on the grass!
Number 4 - The amount of broken glass scattered everywhere... again the fault of the drunken folk!
Number 5 - The pigs! O.k... they where doing there job... but attempting to close off the whole of the area was taking the piss! After a bit of re-routing most people found themselves in nearby Portstewart. This wouldn't have been so bad if the beach was open... but due to foot-and-mouth disease the beach was shut? Oh yeah... and if you use the excuse... "I'm just searching for a public toilet officer" or "Uh... i've got to go this way because i wouldn't know how to get home that way" then you are likely to get a traditional smirk and a muffled "fuck up" from Mr. Policeman!
[ BACK ]